Punter (aka Michael Dickson) is showing spectacular punting skills by pinning teams in their own 10th yard on a regular basis. Because of his success I began wondering about what would happen if Punter and Justin Tucker played on the same team. Can the Ravens or Seahawks have Punter make the opposing team start a drive deep in their own field, have their defense force the opposing team to punt and then have their offense move the ball a few yards before having Tucker kicking in a 50 yard field goal?
Using nflWAR 2017 data I got a solid idea of how effective and realistic this strategy could be.
Drive Outcomes
Most drives end up in punts. During the 2017 season, 53% of drives ended in punts.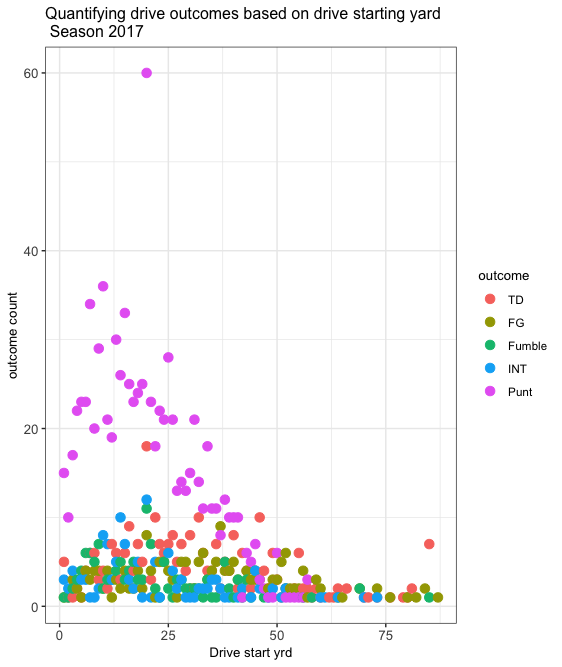 The interesting part is, drives starting within the own 15th yard line ended in punts 63% of the time. This is 10% more than the average punt frequency!
Getting out of the red Zone
Being deep in your goal zone is risky, if you're lucky to not have to worry about a safety, you still have to be cautious of a pick 6, so drives tend to be more conservative. A quick analysis showed drives starting from within the 15th yard line, traveled an average of 26 yards before punting on 4th down.
Those punts travelled on average 41 effective yards (effective yards = punt distance - return yards +/-penalty yards).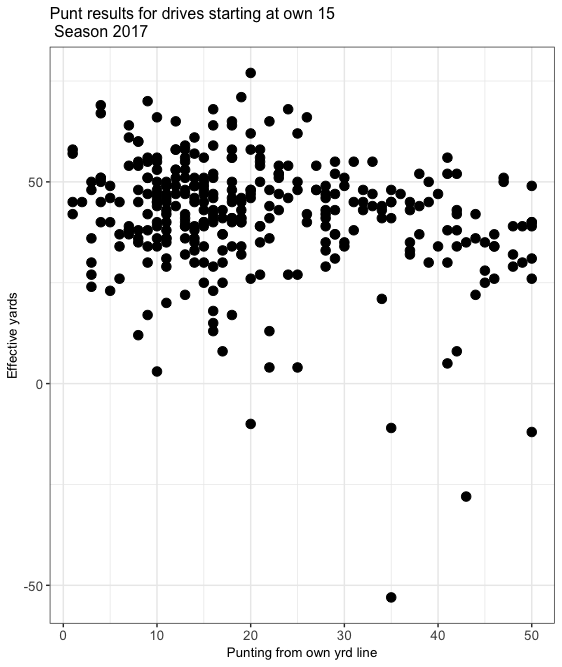 Adding the 26 travel yards and the 42 effective punt yards to the initial position (15) we end up in our own 17th yard.
Yards needed for J Tucker to score
Justin Tucker, a fantasy favorite, missed only 3 field goald in 2017, 2 of those were 50+ field goals. As we can see from the plot below, if the ball gets snapped anywhere within the opposint team's 40th yard line, Tucker will score.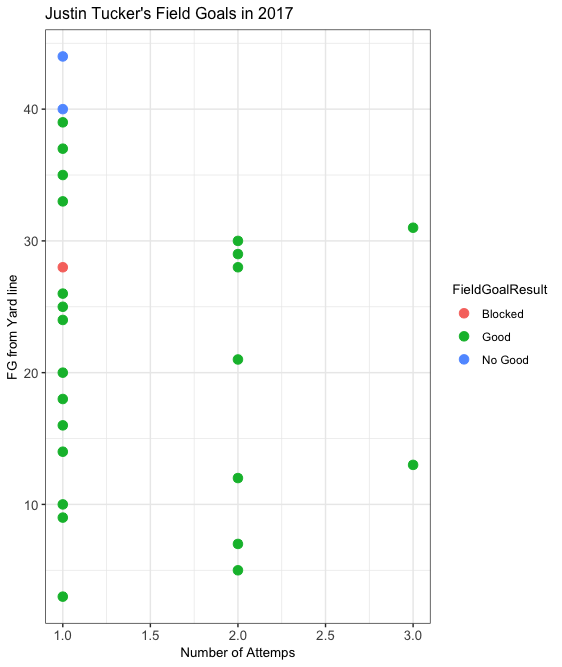 So quick math… if the Ravens/Seahawks start from their 17th and move the ball at least 43 yards, they will walk away with at least 3 points.
Okay, maybe teaming up Punter and Tucker won't be the ultimate hack that will break the NFL, BUT it could cut some slack on both sides of the ball. After all, a good punt does increases the chances of a forced punt, and moving the ball 40 yards shouldn't be too hard on the offense.